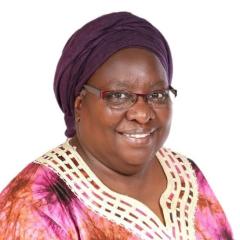 Lucy Mulenkei
Executive Director
Indigenous Information Network (IIN)
Biography
Dr. Lucy Mulenkei is a Masaai from Kenya.

She has many years of experience in community development work, focusing on issues related to Environment and Development, work in the Conventions on Biological diversity, Climate Change, Desertification and others.

She is active in Human rights and women and Girls rights that include Reproductive health rights, education, and development that impacts on IPLCs She has experience in local, national, regional and international advocacy where she brings the international discussions to the local levels and visa versa.

Apart from being a graduate of Gender and Development Studies from the University of Nairobi, she has studies in Journalist, Project management, human rights based approach, Leadership and Environment just to name a few.

She is a Member of a number Boards and Co-founder of many Indigenous Peoples Networks, among them the African Indigenous Women's Organization, the International Indigenous Women's forum, Indigenous Women Biodiversity Network, the International Indigenous Forum on Biodiversity, member of other Indigenous Peoples Advisory group of GEF. She is a member of the High-Level Commission ("HLC") on the Nairobi Summit on ICPD25. She was recently appointed as a Member and a Co-Chair of UNEP Advisory group Ecosystem Restoration.