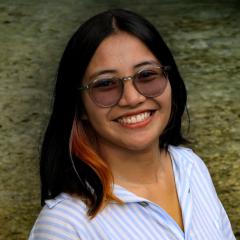 Sheherazade .
Co-Executive Director
PROGRES (Sulawesi Regional Ecological Conservation Initiative)
Biography
Sheherazade is the Co-Executive Director of PROGRES (Sulawesi Regional Ecological Conservation Initiative). Since 2018, PROGRES has been the catalyzer in the biodiversity hotspot of Wallacea to build a network of empowered communities in protecting Sulawesi endemic yet overlooked wildlife, from bats, tortoises, cuscus, to fish. Believe and act on compassion, PROGRES weaves together people-oriented and scientific-based approaches to create just, collective, and impactful conservation strategies. Shera, for short, felt the need for different strategies to address conservation challenges which resulted in her involvement in local to international initiatives to advance conservation practice. Her ten years of experience have ranged from leading essential biodiversity research to addressing unequal access to capacity-building opportunities. She co-founded and led Tambora Muda, one of the first national-level networks for Indonesian young conservationists. She recently became part of the steering committee that together established the IUCN SSC Indonesian Species Specialist Group (IdSSG) to foster Global South leadership and bridge collaborative conservation across regions. While co-leading PROGRES, she is currently pursuing a Ph.D. in Environmental Sciences, Policy, and Management at UC Berkeley, USA, and is active in writing both scientific and popular articles about biodiversity and the roles of woman leaders in galvanizing conservation actions.
October 11 2023
11:30 h - 13:00 h
Room 6&7