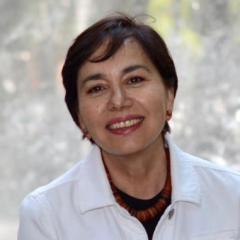 Marina Robles
Secretary of Environment
Mexico City
Biography
Dr Marina Robles García has been the Secretary of the Environment of Mexico City since 2018.
Prior to this, she was a researcher at the Universidad Autonoma de Baja California and at the Centro de Especialistas en Gestión Ambiental. She also served as Director of Environmental Education at the Environmental Secretariat of the former Mexico City Government as well as Advisor to the President of the National Institute of Ecology.
In addition to previous roles as a professor in several higher education institutions, she coordinated the Master's Program in Environmental Education at the Universidad Pedagógica Nacional.
She is the author of scientific and popular articles and, for 20 years, has published one of the Biology textbooks used in the first grade of secondary schools in Mexico. She was the editor of the journal "Investigación ambiental. Ciencia y Política Pública".
She has managed local, regional and international projects in the environmental field and led the design of alternative solutions for ecosystem regeneration and natural resource management.
She holds a PhD in Environment and Development, a Master of Science degree in Ecology and a Bachelor of Science degree in Oceanology. She is also a graduate of the Environmental Leadership Program of the LEAD International Program (Advanced Studies in Environment and Development).
October 13 2023
10:00 h - 11:00 h
Plenary A