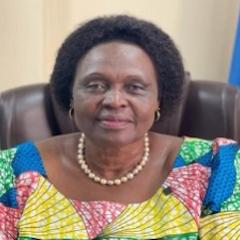 Beatrice Atim Odwong
Minister of State for Environment
Republic of Uganda
Biography
Hon. Beatrice Atim Odwong is the minister of state for Environment in the Ministry of Water and Environment, of the Republic of Uganda.
Before her appointment in 2020 as the Minister of State for Environment, she served as an MP for Kitgum District and Kitgum Municipality from 2006-2021.  She also served as the Shadow Minister for Water and Environment, giving alternative policy statements on the ban of polythene bags, she also speared headed the 'save Mabira' crusade campaign in 2007 that earned her the title "Mama Mabira" (google Mama Mabira).  She was the Shadow Minister for Energy, Minerals and Natural Resources where concrete electricity poles were proposed and now implemented.  She held the position of   the Vice Chair for the Gender, Labour and Social Development Committee where stopping Domestic Violence Act was inacted.  She was the Vice chairperson of the Climate Change Committee, where she advanced the Climate Change Act, and now signed into Law.  She is currently a member of the Global Leaders Group on Antimicrobial Resistance.
Hon. Beatrice Atim Odwong holds a Master's Degree in Public Administration and Management (MUK) and was awarded a Honorary Degree in Humanity from the Zoe Life Theological College - Philadelphia-USA, 2023.
She is passionate about Environment Conservation and efficient natural resource development geared towards achieving sustainable development for Ugandan's socio-economic transformation, she is also  passionate about Fish farming, Eco-tourism, Bee farming, Commercial tree farming, Energy saving stove, promoting Agro-forestry, growing perennial crops like Ovacado, Cashew-nut, Mango (fruits) and getting ready to earn from Carbon Credit Programs for women like "Climate Resilient Women Economic Empowerment and Capacity Development Funding.
October 12 2023
11:30 h - 13:00 h
Plenary C
October 13 2023
10:00 h - 11:00 h
Plenary A