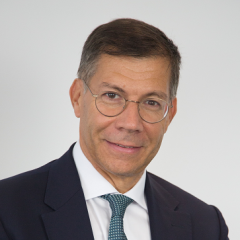 Antoine Sire
Head of Company Engagement
BNP Paribas Group
Biography
In 2017, Antoine Sire was appointed Head of Company Engagement at BNP Paribas and joined its Executive Committee, with the mission to make the Group's commitment to society one of its strategic pillars.
He was Head of Group Communications for BNP Paribas for 16 years, where he created the company's new brand following the merger of BNP and Paribas. He played a key role in developing the Group's international recognition and societal commitments.
In 2013, he left BNP Paribas to focus on a long-term personal project, writing a historical book on Hollywood's golden age actresses, published in 2016. In parallel, he worked as a Partner at Havas Paris (2015-2017).
Prior to that, he was Assistant to the Director for Communications and Regional Action of the French Association of Banks - now FBF - from 1992 to 1995, then Communications Director of the Confédération Nationale du Crédit Mutuel (1995-1997).
He graduated from Institut d'Etudes Politiques, Paris and holds a degree in public law.
October 13 2023
10:00 h - 11:00 h
Plenary A