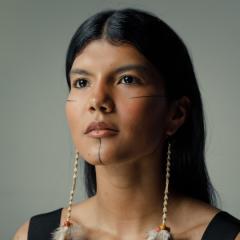 Zaya Guarani
Indigenous model and activist
from the Brazilian Amazon
Biography
Zaya Guarani, an internationally renowned model, who was born and raised in an Indigenous community in the remote Brazilian Amazon, belongs to a line of strong women who have led their communities as both shamans and spiritual guides. Continuing her ancestral tradition of political and spiritual engagement, Guarani has chosen to use her platform as a model to support the ongoing global struggle for Indigenous rights and climate justice.
A member of the powerful Kamurape and Guarani Mbya ethnicities, Guarani initially infused her traditional Indigenous upbringing with a Western-style education after earning a scholarship to attend the German College of Rio de Janeiro at the age of 16. Shortly thereafter, Guarani was spotted by Dayana Molina, a prominent Brazilian Indigenous rights advocate, stylist, and columnist, with whom she would establish the first Indigenous Creative Collective (featured in Vogue Brazil; and Elle Brazil) dedicated to Indigenous representation in the fashion world.
Guarani is relentlessly devoted to working with partners who understand and support her political and climate activism, both within and beyond the fashion industry. She lives in New York City, where she is a board advisor for the Slow Factory Climate Innovation Hub and works with the United Nations Spotlight Programme among other initiatives.