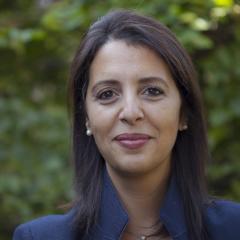 Zakia Khattabi
Federal Minister of Climate, the Environment, Sustainable Development and Green Deal
Belgium
Biography
As a Minister of Climate, the Environment, Sustainable Development and Green Deal, Zakia Khattabi attaches great importance to the "One Health" concept in all her policies, acknowledging the crucial link between the health of humans, animals and our environment. She is also strongly convinced of the need to ensure that the ecological transition is also a just social transition.
Khattabi started her political career as a militant with a passion for social phenomena. She became a politician for the Belgian French-speaking Green party Ecolo, first as leader of the Senate faction (2009), later as a Member of Parliament (2014). Her parliamentary work was devoted to the Justice, Interior and Equal Opportunities Committees.
In 2015, Khattabi was elected co-chair of her party, a role she fulfilled for five years before being appointed to her current ministerial position in 2020.
On the international scene, she has acted as EU negotiator, both on the mitigation work programme at the Climate COP27 as well as on targets and goals at the Biodiversity COP15.