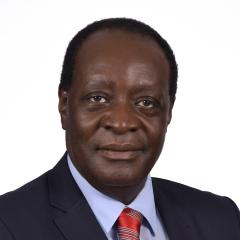 Wilber Ottichilo
Governor of Vihiga County
Kenya
Biography
H.E. Dr. Wilber Ottichilo, EGH, CBS is the Governor of Vihiga County in Kenya and the Chairperson of the Environment and Climate Change Committee at the Council of Governors in Kenya.
He holds a Ph.D. in Natural Resources Mapping and Assessment from the University of Wageningen/International Institute for Earth Observation and Geo-Information in the Netherlands, an M.Sc. in Biology of Conservation and Ecology and a B.Sc. in Zoology and Botany from The University of Nairobi.
Dr. Ottichilo, an immediate former Member of Parliament in the Kenya National Assembly has also worked in various roles with organizations like Kenya Wildlife Service, UN-FAO, UNEP, and the Ministry of Planning and National Development.
He has consulted with numerous organizations, including UN Agencies and the World Bank.
October 12 2023
16:00 h - 17:00 h
Plenary C