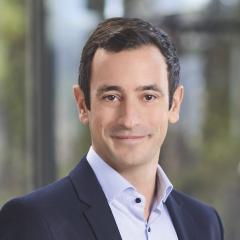 Vassilis Venizelos
Councillor of State
Canton de Vaud
Biography
Vassilis Venizelos has been Head of the Department of Youth, Environment and Security (DJES) since 1 July 2022.
Vassilis Venizelos was born in Yverdon-les-Bains on 7 April 1977. After studying geography and ethnology at the universities of Lausanne and Neuchâtel, he worked in several professions in the cantonal administration of Vaud and Geneva, where he was deputy director of the Urban Planning Office until he took office.
Elected to the municipal council of his city in 1997, when he was 19 years old, he acceded to the Grand Council in 2007. He chaired the Green group for ten years.
He has carried out numerous activities in the associative field, including the presidency of Diabetesvaud, the Steering Committee of the Northern Vaudois Hospital Establishments or the SEMONord Committee, in the field of professional reintegration.