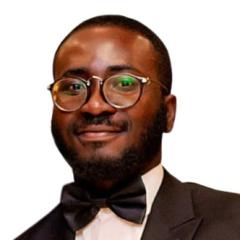 Theophilus Dumenyo
Biography
Dumenyo Theophilus Delali is a visionary entrepreneur, best known as the co-founder of Ento Farms, a groundbreaking agribusiness startup. With a mission to transform animal husbandry through sustainable feeding solutions, Delali spearheads operations and finance as the CEO. His leadership led Ento Farms to notable achievements, including the Circular Economy Challenge Ghana 2020 victory and a first runner-up position in the Presidential Pitch Ghana 2019. Beyond business, Delali is deeply committed to social impact. Through the Australian Direct Aid Program, he initiated the ENTO Women Network project, empowering women farmers with farm inputs, advocacy, and farm-management training to address sustainable agriculture in combating climate change.
This project has earned recognition from the Ban Ki-moon Centre for Global Citizens, Delali's unwavering dedication to creating positive change culminated in his decision to pursue an AFAS Masters scholarship program on Nature Based Solutions regarding Climate Change Adaptation and Biodiversity Conservation in African Savannas at the Université Félix Houphouët-Boigny (UFHB) in Abidjan with the Universities of Bonn (UoB) and Cologne (UoC) in Germany.
His journey exemplifies a profound passion for fostering impactful ventures and uplifting communities.