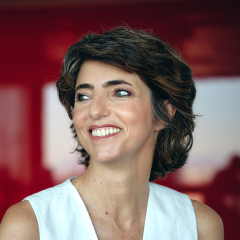 Teresa Parejo Navajas
Head of Sustainability
Iberia
Biography
Teresa Parejo-Navajas has served as the Head of Sustainability at IBERIA since 2019.
Prior to this, she developed an extensive academic carrier as Associate Professor of Law at Carlos III University (Madrid, Spain). She has published two books as well as numerous articles and book chapters on the environmental and spatial planning fields in Spanish and international journals. In addition, she has been a visiting scholar in various European and American universities, such as Università di Bologna (Italy), Oxford University (UK), Fordham University (US), Columbia University (US), and PACE University (US). She collaborated with the Sabin Center for Climate Change Law (Columbia University) and the SDSN, New York, during the time she lived in New York.
She is a member of the Pascual Madoz Institute of Spatial Planning, Urbanism and Environment in Spain and on the Board of Governors of ICEL (International Council of Environmental Law).
She holds an LLM on EU Law.
October 12 2023
16:00 h - 17:00 h
Room 6&7