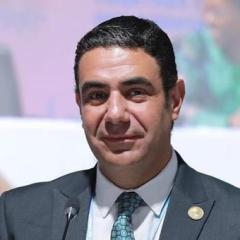 Tamer Abogharara
Advisor to the Minister of Environment
Egypt
Biography
His MSc is in Development and Planning: Environment and Sustainable Development from University College London. He has more than 23 years of professional experience working in the environment sector. His areas of expertise involve coordination of international agreements and conventions concerning environmental protection and sustainable development, as well as management, monitoring and evaluation of donor-funded programmes and projects in the fields of sustainable development, environmental management, climate change, disaster risk reduction and management, environmental governance, and policy planning.
He has been working as Advisor to the Minister of Environment of Egypt since 2018, to supervise the International Cooperation Portfolio, in addition to lead the monitoring team for the projects that are funded through bilateral, regional, and multilateral organisations and banks.
Throughout the COP27 of the UNFCCC, in addition to support the event organisers, he lead the team working on organising the Biodiversity Thematic Day, in partnership with the UNEP, on which the ENACT Partnership was launched.