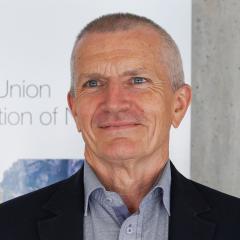 Stewart Maginnis
Deputy Director General for Programme
IUCN
Biography
Stewart Maginnis is Deputy Director General for Programmes at IUCN.
Since 2008, he and his team have developed, promoted and set standards for Nature-based Solutions as a framework for addressing sustainable development challenges.
Maginnis has worked in sustainable development and biodiversity conservation for 35 years. He has lived for extensive periods in Tanzania, Sudan, Ghana and Costa Rica, undertaking conservation fieldwork. He led the development and promotion of "forest landscape restoration" (FLR) – one of the first "purpose-built" Nature-based Solutions - to which over 60 countries have committed more than 210 million hectares under the Bonn Challenge.
He and his team at IUCN have worked over the last 13 years on defining and promoting the concept of Nature-based Solutions and supporting its application to climate change, food & water security and disaster risk reduction.
He is currently the Deputy Director General of IUCN with responsibility for the IUCN programme of work.
Stewart was educated at Oxford University and Queen's University Belfast.