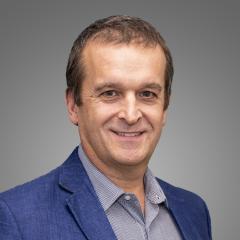 Stephen Browne
Vice President, Wildlife & Natural Heritage
Royal Commission for AlUla
Biography
Dr Stephen Browne is Vice President, Wildlife & Natural Heritage at the Royal Commission for AlUla (RCU), overseeing a team responsible for protecting, restoring and reintroducing wildlife to an area of almost 25,000 km2 in north west Saudi Arabia.
As part of Saudi Vision 2030 and the Saudi Green Initiative, the work of RCU will bring about comprehensive regeneration to create a blossoming ecotourism sector that diversifies the economy and provides opportunities for local communities.
Stephen is an ecologist and ornithologist by training who has spent the last 30 years working for NGOs around the world.
He has wide nature-based experience from an initial focus on field-based work on wildlife in the UK and Europe, and leadership roles overseeing projects working on species and landscape in seven countries in SE Asia and now in the Middle East.
Stephen sees nature as fundamental to a healthy, prosperous and sustainable future.
October 11 2023
16:00 h - 17:00 h
Room 6&7
October 12 2023
16:00 h - 17:00 h
Plenary C