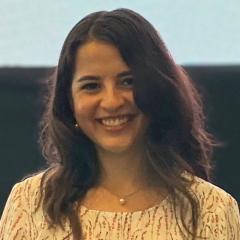 Regina Cervera
Project Coordinator
AI for Climate / C Minds
Biography
Regina Cervera is the project coordinator of the Future of Earth Lab at C Minds and the AI for Climate initiative, which was recognized as one of the ten most promising projects by the Paris Peace Forum.
Through this role, Regina is in charge of projects like Tech4Nature Mexico, focused on strengthening the protection of natural reserves in Mexico through the responsible use of AI and the power of cross-sector partnerships. She also leads the AI4Manatees project, which seeks to provide tools to accelerate ecological understanding of the American manatee. Before joining the civil society sector, she worked in the public sector as Sustainable Development Coordinator in the state of Yucatan, Mexico, contributing to strengthen regional capacities and promoting sustainable primary activities.
Her work made her recipient of the Transforming Mexico award at the local level from the United Nations. She was recognized as a key part of the AI ecosystem in Mexico by the Women in AI Awards in 2023. Regina is also Impact Officer of the Merida Hub of the international community of Global Shapers and was selected to attend the Annual Meeting of New Champions 2023 in Tianjin, China by the World Economic Forum.
She was also selected as a Fellow 2022 of the Alexander von Humboldt Institute for Internet and Society. Regina has a degree in Biology from the Universidad Autónoma de Yucatán and a master's degree in science from the Universidad Marista de Mérida.
October 13 2023
11:15 h - 12:45 h
Plenary B