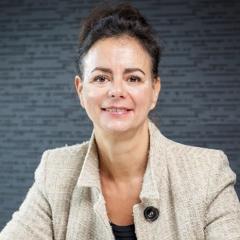 Michèle Lacroix
Group Head of Sustainability
SCOR
Biography
After 20 years working in various areas of financial markets, Michèle Lacroix joined SCOR in 2008 as Chief Investment Officer of SCOR Global Investments before becoming Chief Operating Officer of the Group asset management company. She moved in 2014 as Head of Group Investment Office at SCOR then Head of Group Investment Risk and Sustainability in 2019, monitoring SCOR's investment portfolios risks and designing the sustainable investment strategy.
She has been promoted Group Head of Sustainability early 2022 with the mandate to embed sustainability across the company, from people to insurance, investments and operations.
She has been part of the Technical Expert Group on Sustainable Finance at the European Commission. She is member of the Climate and Sustainable Finance Commission at the French Securities and Market Authority (Autorité des Marchés Financiers).