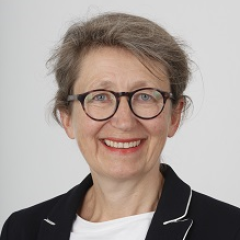 Marine De Bazelaire
Group Advisor on Natural Capital
HSBC Holdings
Biography
Working in sustainability for over 22 years, Marine joined HSBC to create the Sustainability function for France in 2004, and then headed the function for Europe. Since January 2021, as HSBC's Group Advisor on Natural Capital, she coordinates the Group's response to nature related risks and opportunities, liaising with business lines and functions and bringing in insights from external working groups such as TNFD or CISL Biodiversity working groups.
Marine holds a MSc in Museology from University Paris IV, a MSc in Publishing and a BBA in Finance from Pace University, New York, and acts as Auditor of the Institute of Higher Studies in Environment and in Sustainable development (AgroParis; ESCP; Centrale Paris) and of the Institute of higher studies in National Defense.
Marine is professor at Sciences Po Paris, a leading Higher Education Institution, where she teaches "Finance & Biodiversity" to student enrolled in the Environmental Policy Master. She is also Colonel of the Citizen Reserve of the French Air Force and is a Board member of Friendship, a Bangladeshi nonprofit.
October 12 2023
16:00 h - 17:00 h
Room 6&7