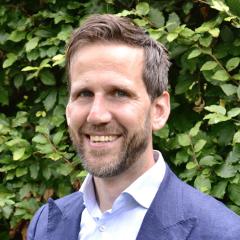 Marc Reinke
Head of Sustainable Finance Office
De Nederlandsche Bank
Biography
Marc Reinke has been the head of the Sustainable Finance Office at De Nederlandsche Bank (DNB) since 2022. He is responsible for integrating sustainability across all DNB's core tasks by 2025. As of the summer of 2023, he is also the co-chair of NGFS' taskforce on Nature-related Financial Risks. Previously, he worked for four years as a senior policy advisor in DNB's Financial Stability department.
Prior to joining De Nederlandsche Bank, he worked for seven years as a strategy consultant with McKinsey and Company.
He holds an MSc in economics from the University of Amsterdam, an MA in international relations from the University of Utrecht, and an MBA from INSEAD in Fontainebleau and Singapore.