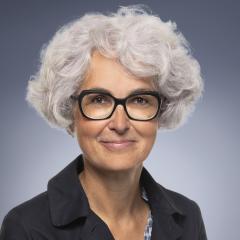 Katrin Schneeberger
Director of the Federal Office for the Environment (FOEN)
Switzerland
Biography
Katrin Schneeberger (born 1967) took over as Director of the FOEN on 1 September 2020. Prior to that, she worked for eight years for the Federal Roads Office FEDRO, first as Deputy Director and then as Assistant Director, and was head of the Political and Official Affairs Division. She has previously held roles as Secretary General of the Directorate of Civil Engineering, Transport and Green Spaces of the City of Bern (2005-2012) and was in charge of the Mobile Society unit of the Centre for Technology Assessment (TA-Swiss, 2002-2005). During this period, Katrin Schneeberger completed numerous advanced training courses in the fields of communication and leadership.
After completing her school education in Bern, Katrin Schneeberger studied physical and human geography and economics at the University of Bern. She completed her doctorate in economic geography and regional research at the same university in 2000. Her PhD thesis investigated working conditions in the hotel and restaurant industry in Lucerne and Gstaad from the point of view of regulation. This research led to two semesters as a visiting research fellow at Lancaster University in the UK. During her studies, she worked on two Swiss National Science Foundation (SNSF) research programs, including the Environmental Innovation and Regional Context project, part of the Swiss Priority Program Environment (SPPU).
Katrin Schneeberger lives in Bern.