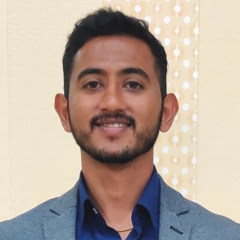 Havyas Kudupaje Somappa
CEO & Co-Founder
Beegle Agritech & Agriproducts
Biography
Havyas Kuduapje Somppa is a seasoned professional in domain of Agriculture Entrepreneurship, specializing in sustainable practices and innovative technologies. With over five years of experience, he is a passionate advocate for integrating cutting-edge solutions into forestry, agriculture, including hydroponics, aquaponics, and drone technology.
Currently serving as the CEO and Co-Founder of Beegle Agritech and Agriproducts Pvt. Ltd., Havyas plays a pivotal role in the company's operations, strategy development, and research initiatives. He has driven significant growth and successfully executed international projects.
Throughout his career, he has actively sought opportunities to expand his knowledge and contribute to the field through various training and workshops for students and academician focusing on data analytics for smart farming using drone technology. His journey aligns seamlessly with the mission of promoting sustainable practices and conservation in forestry, agriculture and allied segments through technology and innovation.