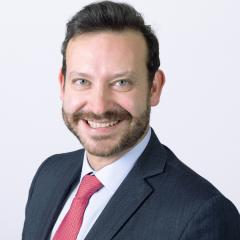 Carlos Jack López-Moctezuma Jassán
Biography
Carlos Jack López-Moctezuma has more than 20 years' experience in the financial services industry. At the Coppel Group, he is responsible for serving the 20+ million clients that consume Coppel's financial services and is working relentlessly to transform Coppel into the company of choice for its mass market.
Prior to Coppel, López-Moctezuma was based in Spain working for the BBVA Group as its Global Chief Innovation Officer and Global Head of New Businesses and Open Banking.

During his eight-year tenure at BBVA, he worked across various areas, such as financial inclusion, strategy, digital banking, agile development and implementation.
Before BBVA, López-Moctezuma worked at the CNBV (National Banking and Securities Commission of México) for six years as the Chief of Staff for the President. He also led the Special Projects Unit, where he developed financial regulation for disruptive models.
Born in Mexico City, López-Moctezuma holds an MBA with a focus in finance and strategy from Yale University and a BA in economics from Instituto Tecnológico Autónomo de México (ITAM). He teaches courses in finance and financial systems.